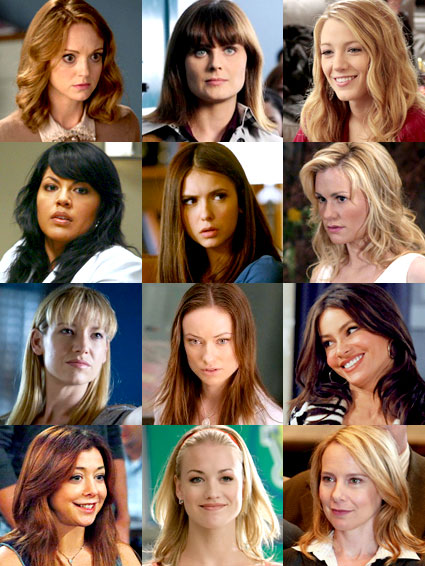 See all those pretty faces in that photo up there? Well, we sure had a lot of fun today thinking of all the female TV characters who are possible contenders to get knocked up on their shows...And guess what? One of them actually is going to reveal that she's pregnant!
So who is it?
All we can say is that it's a TV character many of you worship and adore (and for good reason), and the pregnancy reveal will come down before the current TV season ends. Inside sources confirm it is happening.
It's one of those pregnancies that will change everything—not just for this particular mama-to-be but for the character(s?) she loves.
I'll be eliminating one character every Monday and Wednesday until the preggo target is revealed.
For now, your list of contenders is:
Altlivia Dunham (Anna Torv), Fringe
Callie Torres (Sara Ramirez), Grey's Anatomy
Elena Gilbert (Nina Dobrev), The Vampire Diaries
Emma Pillsbury (Jayma Mays), Glee
Gloria Delgado-Pritchett (Sofia Vergara), Modern Family
Holly Flax (Amy Ryan), The Office
Lily Aldrin (Alyson Hannigan), How I Met Your Mother
Remy "Thirteen" Hadley (Olivia Wilde), House
Sarah Walker (Yvonne Strahovski), Chuck
Serena Van Der Woodsen (Blake Lively), Gossip Girl
Sookie Stackhouse (Anna Paquin), True Blood
Temperance Brennan (Emily Deschanel), Bones
Let the guessing begin!